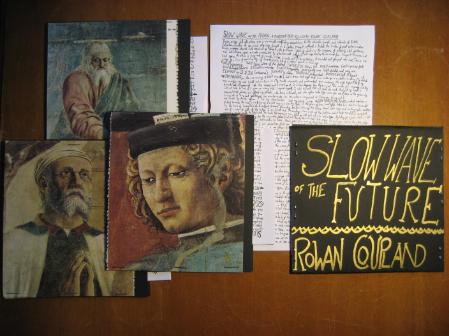 SLOW WAVE OF THE FUTURE (Dec 2012)fell into place over a 6 month rootfinding expedition to the suburbs, forests and islands of British Columbia. A spiritual odyssey fought on bicycles, transit without a ticket, the backs of pest extermination trucks, voyages shared with washed-up sherpas, the first ever sights of whales in the company of elderly Sikh gentlemen, and Christmases spent on boats surrounded by fluorescent jellyfish. With songs charting the movement from Europe to Vancouver and back again, the album is fragments of sounds, friends, songs and precipitation all recorded and glooped into one. These are songs of a loss of nationality, of love and family, and of a return found in leaving.
Aside from found sounds and field recordings, all playing of instruments and all lyrics were by Rowan Coupland, (except for track 9, which is an American traditional).
1. Trepanning
2. Slow Wave of the Future
3. St. Elmo's Fire
4. Vampirism
5. 15 Precise Facts
6. Threaded Hooves
7. Woodsmoke
8. Honeysuckle
9. Pretty Saro (traditional)
10. Skeletal, and Ivory Urn
11. Avesamu
12. Le Rhône
13. Firescorched
14. Loth to Depart
Handmade CD R with lyric sheet, posted anywhere in the world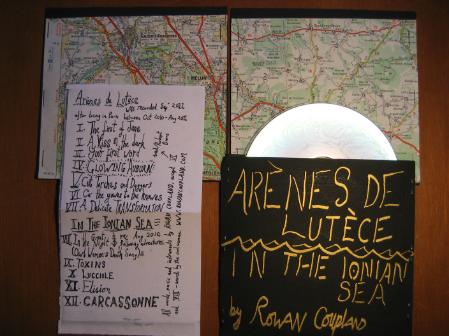 Arènes de Lutèce (2011) is the remains of a Roman Amphitheatre in the 5th arrondisement of Paris. These songs were songs sung and written and propogated in that city, October 2010 to September 2011. They were recorded at home in England. Ca' The Yowes to the Knowes is a folksong with words written by Robert Burns, which was often performed on the Shakespeare and Company piano. (20
1. The first of June
2. A kiss in the dark
3. Your first word
4. Glowing Auburn
5. Cut Torches and Daggers
6. Ca' the Yowes to the Knowes
7. A delicate transformation
In the Ionian Sea (2010) was written while travelling Europe in June- August 2010. From disastrous attempts to walk the hills of Spain, to cliffjumps and secret caves in the Ionian Sea, it is principally performed on piano and the first track is taken from a native american song communicated by spirits.
1. In The great Night (owl woman's death song)
2. Toxins
3. Lucciole
4. Elision
5. Carcassonne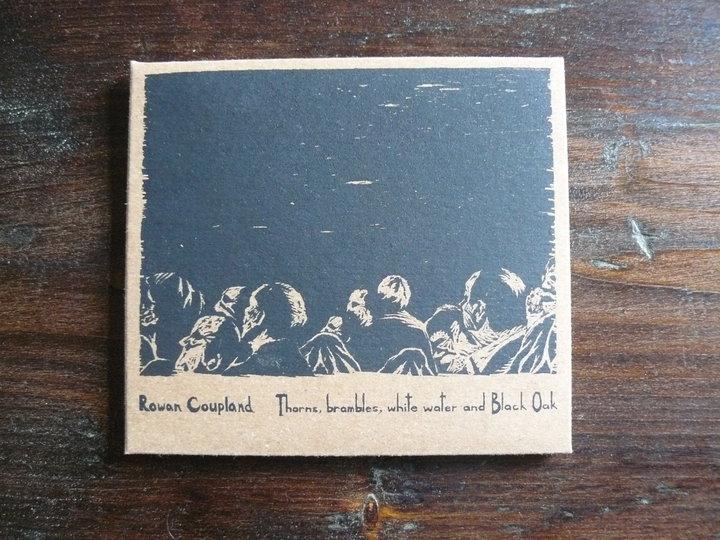 Thorns, Brambles, white water and Black Oak (2010)
6 Song EP, recorded with voices of (in order of appearance), Sam Clodd, Caroline Rosalie, and Bethany Porter.
Released on Willkommen Records, with beautiful art from Raymond Wong and lovingly screenprinted by Jurgenson Print Works.

1. Up To Heaven
2. I Got Born on Sunday Morning (in the shade) (up to heaven)
3. Le Réveil
4. Your Best Place
5. No Window
6. I Was Born in the Sun (in the snow, in the sleet and the rain)

3 song EP. Was intended to be the first part of a 4 part suite of songs loosely grouped around the seasons (the others being 'Songs of drought', 'Songs of snow' and 'The Wave'). This was the only completed section, as I was too dehydrated to get much further.
Tracklisting:
1. Opening
2. Holidays
3. Memories of the Summer of 2003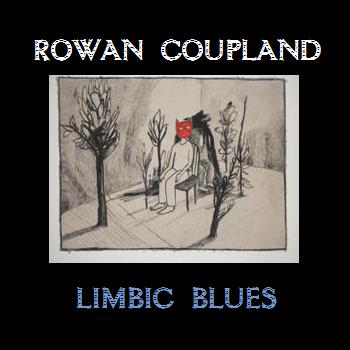 5 song acoustic EP. One take each.
1. Marjorie Penn
2. Last Kind Word
3. Summer
4. Romance
5. You know in your gut