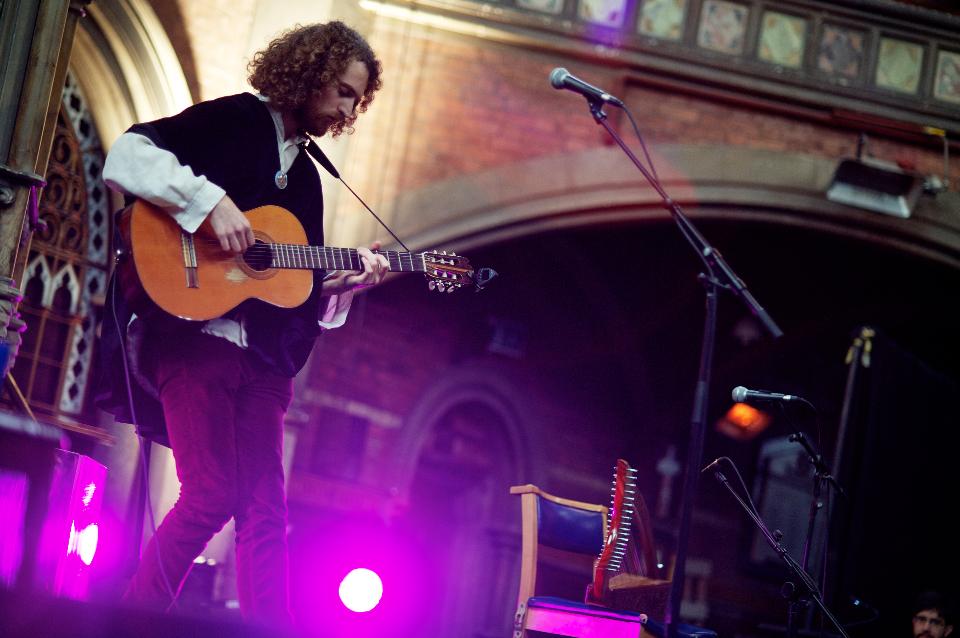 Rowan Coupland is a writer, singer and multi instrumentalist, playing 'thoroughly beguiling neo folk' (Time Out London) combining soaring vocals, and astonishingly intricate guitar and harp arrangements, as well as playing clarinet, accordion, piano, organ, violin, glockenspiel and more on his masterful studio records- the last of which was named album of the year, 2012 by Brighton Music Blog.
Coupland cut his teeth first in the alt folk scene of Brighton and London, playing with the acclaimed Sons of Noel and Adrian and taking in festival slots at End of the Road and the Big Chill, then supporting Mumford and Sons on their first sold out UK tour.
Relocating then to Paris, Vancouver and finally Berlin, his music is as nomadic as his passport, drawing on everything from Ethiopian Jazz to Appalachian ballads, old spirituals, madrigals and gamelan, and his solo performances see him stalking the stage and stepping out into the audience, harp drawn close, singing into the great night.
(...scroll down for live recordings...)
'Thoroughly beguiling neo folk'
-Time Out, London
* * * *- Independent reviews Willkommen Collective at the Union Chapel
http://www.independent.co.uk/arts-entertainment/music/reviews/the-willkommen-collective-union-chapel-london-1717797.html
"an absolute delight to listen to... soulful, heartfelt folk music at its beautiful best" 9/10
'Excellent: check him out if you get the chance'
-Jon Hillcock, XFM
'a folkie noisemaker....an incredible voice from the same milieu that spawned the fantastic Nancy Elizabeth. If you're looking for an artist to start watching early before he completely takes over, Rowan is a good candidate.'
-Will Bruce, Foreststronghold
"Coupland has a unique style of his own - part troubadour, part poet, part choir boy... A fabulous album - I can't recommend it highly enough."
-Brighton Music Blog: **Album of the Year**
Live // Union Chapel, London